Financial Capital
We ensure prudent financial management practices and leverage our cash generating business model to strengthen balance sheet position and sustain business growth.
Cash and cash equivalents: ₹ 2,975 crore ()
Networth: ₹ 15,143 crore ()
Capital employed: ₹ 25,418 crore ()

Manufactured Capital
We invest in new capacities and maintaining existing ones to manufacture quality products and in building inbound/outbound logistics to ensure efficient supply chain. These investments also help manage our environmental footprint.
Capex incurred: ₹ 1,242 crore ()

Intellectual Capital
We are strengthening our competitive edge by making sustained R&D investments at our innovation centres, collaborating with scientific institutes and investing in digital technologies to enhance operational efficiency.
Investment in R&D (including Rallis): ₹ 70 crore ()
Technically skilled people in R&D: 220 ()

Human Capital
We provide training and skills to create a pool of high performing, innovative people with diverse skillset to operate business efficiently. We also undertake initiatives around inclusivity, safety and leadership development.
Training days per employee: 2.25 man-days ()
Leadership training provided: 270+ man-days ()
Safety training per employee: 0.95 man-days ()

Social and Relationship Capital
We integrate the needs of our stakeholders (customers, suppliers, contractors, community) and invest in various welfare initiatives, processes and technologies to strengthen relations and build trust.
CSR spending* (standalone) – ₹ 21 crore ()

Natural Capital
We sustainably use resources and actively invest in sustainable technologies to promote circular economy and reduce our environment footprint.
Resources used:
Trona 46,05,233 MT ()
Solar Salt 24,02,580 MT ()
Limestone 18,88,378 MT ()
*Higher than our 2% commitment
() Increase (over past financial year)
() Decrease (over past financial year)


Performance Materials
Soda Ash
Sodium Bicarbonate (Industrial)

Nutrition Sciences
Salt
Sodium Bicarbonate (Food, Feed, Pharma)

Agri Sciences
---
Prebiotics (FOS / GOS)
Formulations
Active Ingredients (AI)
Agri Formulations
Seeds
Sustainability and good health for a better tomorrow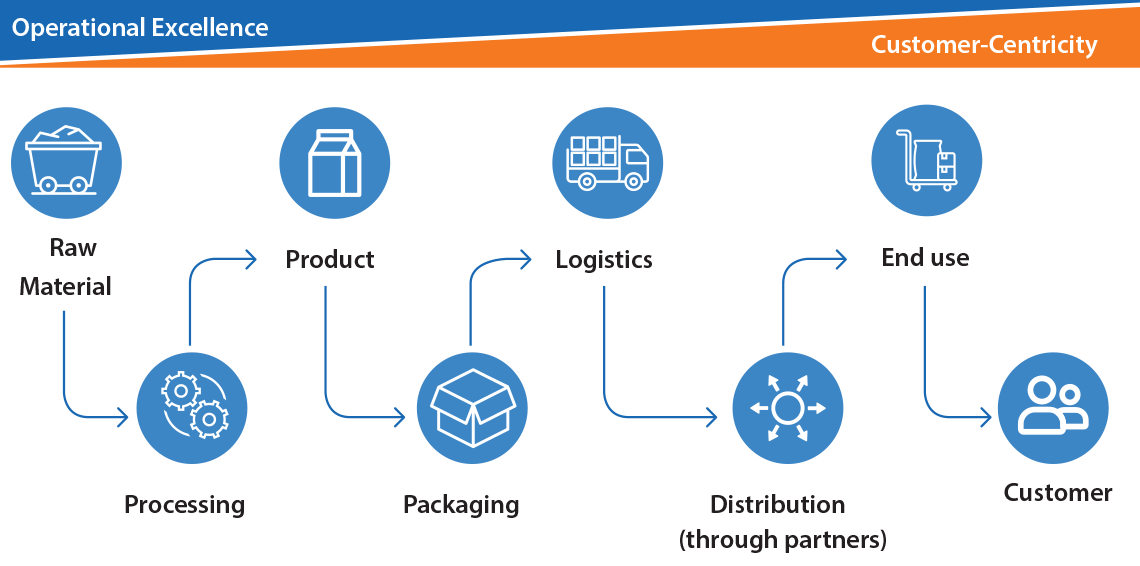 Listening and Engagement Process
Emergent Needs
Buying Patterns
VoC
KAM
Customer Complaint Management
CSAT
Inputs to SPP / LTSP
Opportunities for New Product Development/Variants
Innovation opportunities in Customer/Operating Processes
Refer page 50-58

to view the detailed value chain for each business
We produce a wide range of bulk and value-added products including Soda Ash, Sodium Bicarbonate, Salt, Specialty Silica, Prebiotics, Crop Care (Rallis), Seeds (Rallis)
Sales volume of key products are as follows:

Financial Capital
Proposed Dividend: ₹ 10 per share ()
Cash generated from operations: ₹ 2,037 crore ()
EBITDA: ₹ 1,501 crore ()
EBITDA/Revenue from operations: 15% ()
Strengthened balance sheet as gross debt : equity improved to 0.46 ()
Net debt to EBITDA at 2.6 ()

Manufactured Capital
Enhancement in manufactured assets and capex progressing well
Prebiotics plant at Nellore stabilised
Decline in sale of Soda Ash to 3,023 KT
Increase in sale of Sodium Bicarbonate to 221 KT; Salt to 1,581 KT

Intellectual Capital
Robust new product launches and registrations
Enhancement in intellectual property
Total No. of Patents filed: 163

Human Capital
High employee productivity, job satisfaction, engagement and retention
Total Recordable Injury Frequency Rate decreased to 1.46 from 1.69
Zero incident of labour unrest

Social and Relationship Capital
CSR beneficiaries: 2 lakh beneficiaries (increase from 1.5 lakh)
High customer satisfaction index
Multiple new customers added
Support to all stakeholders during COVID-19 pandemic
Enhancement in global supply chain network

Natural Capital
No serious environmental incidents or material impact to biodiversity / habitats
Responsible manufacturing index (global) changed from 0.31 to -0.08 and for Indian operations changed from 1.29 to 2.82.
Operations changed from 1.29 to 2.82
Reduction in CO2 emission (4.48 to 4.13 million MT)
Reduction in fresh water withdrawal (27,728 to 26,143 Megalitres)
Sustainable use of resources
Positive outcome
Negative outcome
Neutral outcome