Responding to COVID-19
with Resilience
COVID-19 took the entire world by surprise. With serious health concerns, governments across the globe implemented measures such as lockdown and reduced economic activity to curb the virus spread. A black swan event, it led to severe global financial market turmoil and increased volatility. Though in India, the markets have shown some resilience and are recovering sharply. At Tata Chemicals Limited, we responded to the emergency with agility. Business continuity plan was brought into action and measures were undertaken to ensure protection of all stakeholder groups.
Initiatives to support our stakeholders
Work from home, employee engagement, digital training and social collaboration
Safety and well-being protocols for medical infrastructure
All units operating with social distancing and safe practices with minimal strength required
Emotional and mental wellness support, access to counselling, wellness coaching, etc. were offered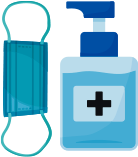 Livelihood opportunities
1.3 lakh masks produced by local SHGs
1 lakh masks sold through Okhai
Provided livelihood support to 275 rural women
Direct farm to home process set up to connect and help sell the produce from 325 farmers to consumers through mobile app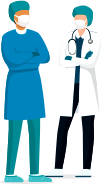 Healthcare assistance
Established 100-bed isolation ward at Mithapur Hospital
Distributed 1.7 million litres of sodium hypochlorite and 1.7 lakh litres of hand sanitisers manufactured at Mithapur and Rallis respectively
Support to government hospitals with various supplies
Donated £10,000 and 1,000 surgical masks to St. Luke's Hospice (in UK)

Community support
Distributed dry ration and food kits to ~10,700 families and hygiene kits to ~8,500 families
Awareness campaigns across villages within the vicinity of our manufacturing plants
A digital push in all our community development programmes included online education classes for students, digital financial training to SHGs members – Hu Pan Digital, online training programme for farmers' awareness, online skill training for youth, etc.
Community engagement was ensured through virtual connects and celebrations, small group meetings, phone calls, WhatsApp calls, etc.
Donated ₹3 crore towards Covid-19 relief initiatives including financial assistance to Gujarat and Tamil Nadu CM Relief Fund; the District Collectors of Jamnagar, Nellore and Tata Memorial Centre and other agencies/institutions
Awareness campaigns including demonstration of social distancing and washing hands, distribution of posters and soap, mentorship and empowerment, set-up medical camp to provide medical checks and distributed medicines (Kenya)
Distributed food, Vitamin A & de-wormers to over 5,000 Magadi community members (Kenya)