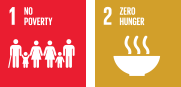 Building economic capital
Farm-based livelihoods
Enhancing farmer income:
We assisted 6,878 farmers in FY 2020-21 with capacity building, field demonstration and livestock management through digital and physical interactions. They were provided seeds and agri-equipment for enhancing farm productivity. Okhamandal Farmer Producer Company, in its second year, grew its operations and launched a mobile app to directly connect farmers with consumers.
We ran pilot programmes and established models for driving value, safe environment and safe food for all with a special focus on small and marginal farmers and farmer producer organisations.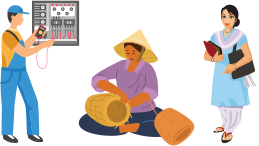 Non-farm based livelihoods
Creating livelihood opportunities:
We run skill development programmes in fashion technology, welder, fitter, domestic electrician, beauty and wellness, etc. to prepare youths for employment or entrepreneurship. During the pandemic, our skill training programmes at Mithapur, Dhasai (Rallis Training Centre), Cuddalore and Mambattu initiated digital programmes to ensure continuity. We also support Tata Strive Centre at Aligarh; ITI at Dwarka and Vaghra; Leslie Swahney Centre and Akola Girls ITI. In TCML, 200 local youth were trained on basic financial skills training and starting small businesses.
Supporting rural women artisans, we transformed Okhai into a marketplace in FY 2020-21, connecting 25,190 artisans across India to customers. Okhai also launched its first flagship store in the art hub of Kala Ghoda, Mumbai. Ncourage Social Enterprise Foundation, through its brands Spirit of the Tribe and Samuday, is actively creating rural livelihood.
TCSRD provided entrepreneurship training to women members of self-help groups (SHGs). In Mithapur, it has helped form six clusters / group enterprises that make products in bandhani (tie and dye), rexine and leather, bead work, jute, block print and coconut fibre, sold through Okhai and two retail outlets.

Ensuring environmental integrity
We run biodiversity conservation programmes relating to coral reef, whale sharks, mangroves and indigenous flora and fauna, along with environmental education initiatives at Mithapur. These are aided by our partnership with eco-clubs in local schools.
Our 'Save the Whale Shark' project included studies of its habitat, migratory pattern and breeding biology. Under our greening programme we have planted 1.15 lakh mangroves across various sites along with conservation of local plant biodiversity at Mithapur.
In Gujarat and Maharashtra, we have carried out land development and Jal Dhan (water management and conservation) programmes, with a focus on water recharging, harvesting by check dam and reviving community ponds. TCSRD has formed SHGs to operate the dry waste processing plant at Mithapur.

Enablers for social, economic and environmental development
Ensuring health and well-being of communities
We implemented a 'Holistic Nutrition' project in Amrawati and Barwani, targeting child health in the first 1,000 days. Health and nutrition camps were organised covering about 14,000 women and children. In Kenya, Magadi Hospital supported by TCML extended healthcare services to local people. In the UK, TCE raised ~£2,000 through fund-raising volunteering activities for supporting St Luke's Hospice.
Encouraging education
We run educational programmes across locations to ensure zero drop-out and improve school lessons. During the pandemic, 23,000 children benefitted from online classes, scholarships, videos and WhatsApp groups set for education continuity. Our Learning & Migration Programme helped 6,012 children by enhancing their learning capabilities and strengthening the community school management system.
TCML provided scholarships to 224 university and high school students. TCE provided career information with emphasis on STEM (Science, Technology, Engineering and Maths) to Y12 students with focus on girl students. TCE also helped run school enrichment clubs by providing resource access to disadvantaged students.
Facilitating safe water and better sanitation
Under our Swachh Tarang project, during the year, 1,116 households got access to clean water. Rural sanitation was improved through our behaviour change programme, Swachh Bharat Mission Cleanliness Drives and construction of toilets and sanitation units.